MacFrut 2018: in Rimini the international fruit and vegetable showcase
26 April 2018
On the 9th, 10th and 11th May, the event MacFrut will be held in Rimini at which Simonato will take part for the third consecutive time.
The international event is a reference for the entire Italian fruit and vegetable industry thanks to the numerous business opportunities and discussions on industry issues. The biggest operators from across the world which deal with production and sale, as well as logistics, packaging, machinery and distribution, will be present at Macfrut. For this 2018 edition, about 1200 professionals will be present, representing 40 states of the 5 continents.

This event has seen about a 40% increase in exhibitors over the last 4 years and a 63% increase in visitors over the same period and for this edition our Veneto Region will be the partner region. The Veneto area is rich in fruit and vegetable excellences and oriented towards bio-diversity and has always represented a major reference point in the Italian and international fruit and vegetable market with its 9800 hectares of vegetables and almost 20,000 hectares of fruit.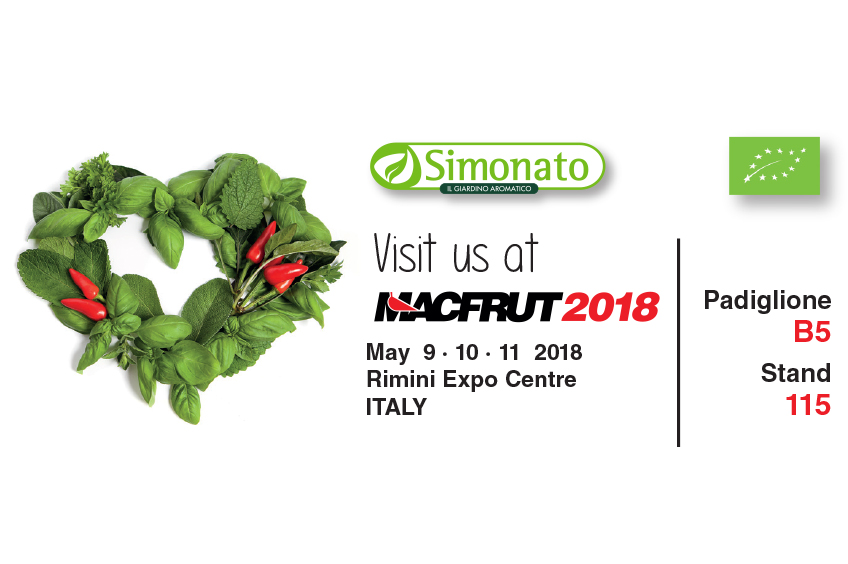 The Company Simonato will be at pavilion B5 Stand 115 to present its cultivation of organic aromatic plants with some new flavours for the kitchen. In the variegated world of organic farming and gardening, the Company Simonato has always been at the cutting-edge and its participation at this event is important as it is a reference point for the space dedicated to organic products which is continuously growing and in recent years has enjoyed a 12% increase.
It is sometimes thought that organic cultivation is a return to the past but, on the other hand, as Simonato has believed for twenty years, the use of a natural remedy in place of a chemical pesticide is the only path to be taken for a better future for us all.
This is an important opportunity to see the showcase of our certified organic plants and you will have the opportunity at our Stand to see that we cultivate beauty as beauty is harmony with nature and our organic aromatic plants are the most precious gift.


Rimini Expo Centre - B5 Stand 115
Via Emilia, 155 – 47921 Rimini – ITALY
Wednesday 9 May 2018
Thursday 10 May 2018
Friday 11 May 2018

from 9:30am to 6:00pm