Bio & Paper Pack
100% recyclable packaging WITH ZERO ENVIRONMENTAL IMPACT
Bio & Paperpack is the new paper-only packaging line, in the complete absence of plastic, designed to contain and transport organic aromatic plants.

The innovative elements that make up this packaging are two: a water-resistant paper bag suitable for containing the aromatic plant without the plastic jar; the pot holder made of recycled cardboard , suitable for contact with food and in natural color.

Bio & Paperpack is the maximum expression of a certified organic supply chain that respects the environment at every stage: from cultivation to packaging, from transport to display at the point of sale to the customer's home.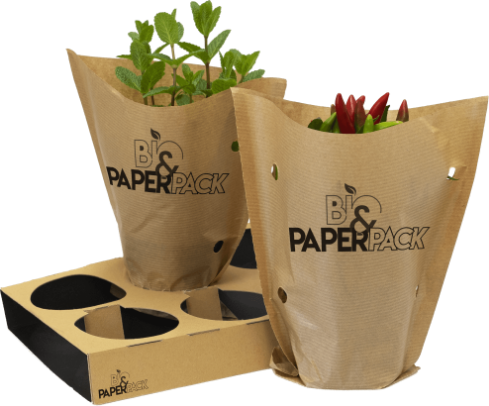 WE ARE AVAILABLE FOR ANY REQUESTS FOR INFO OR SIMPLY CALL US
If you wish to receive additional material on the product, choose the contents below.